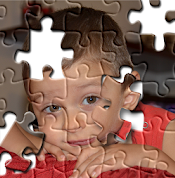 Really easy! Choose a photo from your gallery and play with it!
Enjoy this nice puzzle game recomposing your best photos in the shortest possible time. Photo Puzzle is a free game for all, to relax from stress, to stimulate the brain. It's a game for children, adults, students, for all!
You have 4 levels to test your skills in assembling unique puzzles made with your selfies, photos of your friends, photo of your loved ones or from the places where you've been, etc..
The "Easy" level is for the beginners, photos are divided into 12 pieces (3×4);
The "Medium" level where the photos are divided into 20 pieces (4×5);
The "Normal" level for experts, with photos broken down into 30 pieces (5×6);
The "Hard" level for the most skilled in which the photos are divided into 42 pieces (6×7).
You can play with selected photos from your gallery or photos taken directly from the game, they will be kept in the library of the game and Photo Puzzle will store your best times for each picture in each level so you can improve your skills. In the library view, hold down on a photo to remove it from the library or to share it with your friends.
Can't you complete the puzzle? Do not worry! Press the Help button "?" on top of the screen, it will help you!
So what are you waiting for? Challenge yourself, challenge your friends, share the most beautiful photos and do not forget to share and vote this cute puzzle game!