A nice puzzle game in which moving the tiles on the board you can combine primary colors (cyan, magenta, yellow) to form tiles with secondary colors (green, red, blue) which vanish joining them.
There are 3 different game modes:
In the "Play Points" mode you should try to obtain as much points you can annihilating blue (3 points), orange (2 points), green (1 point). After each 10 moves a black tile appears reducing the active board area and after each 10 points achieved a black tile is removed from the board. The black tiles can be moved but not combined.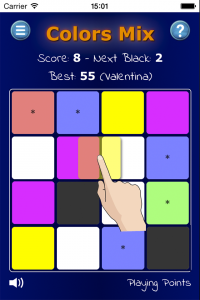 In the "Play White" modes (L1, L2, L3, with timer) the aim of the White games is to get a completely white checkerboard. Try getting an empty board in the fewest number of moves in L1, L2 and L3 mode or in less time possible in the 'with timer' mode.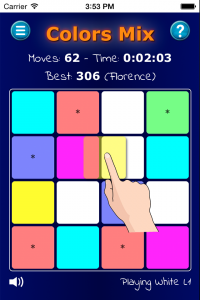 In the "Play vs Time" mode you can also find out how fast is your finger on the display, try to get the highest number of points combining tiles with the same secondary color in 90 seconds!